Mode expand UK production facility.
In June 2008, Mode took delivery of a brand new Samsung CP45 Surface Mount Component Placement machine.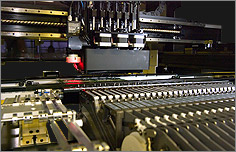 This highly significant investment has increased our production capacity in the UK, and also ensured we have the capability to assemble new products currently in design using the latest component technology.
Most new products incorporate surface mount components in their circuit board designs, from cutting-edge microprocessors through to simple components as small as 0.5mm across. This allows us to pack increasingly complex circuitry into smaller circuit size. The CP45 will handle components as small as 0.5 x 0.25mm, with lead pitches as small as 0.4mm.